Views and Tributes from the Choirstalls
Choir members write their stuff - Click on the tabs

Joe Easly
Beamish Museum Visit
Coastal Views Award Night
1: Joe Easley, the Dalesmen Singers founder and first chairman dies

The Dalesmen Singers male voice choir was formed in 1971, resulting from a meeting in the 'Duke of Wellington' pub in Danby between Joe Easley who was to become the first chairman and Colin Throup a former professional singer. The choir soon established itself singing at different venues in and a round the North York moors and as it's reputation began to spread, performances and friendships formed in other parts of the country and abroad including Canada, Holland, France, Sweden and Spain. No doubt Joe who later emigrated to New Zealand, would have been very proud to see how the Choir has developed and blossomed over the years.
The pictures below show:
The minutes of the first meeting of the Dalesmen Singers.
An early photo of the choir (see who you can still recognise)
A picture of one of the first Gala night concerts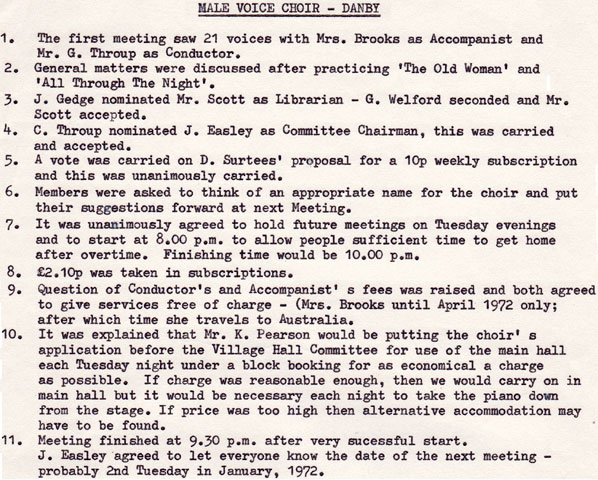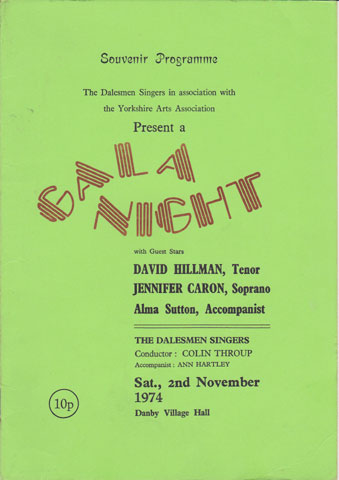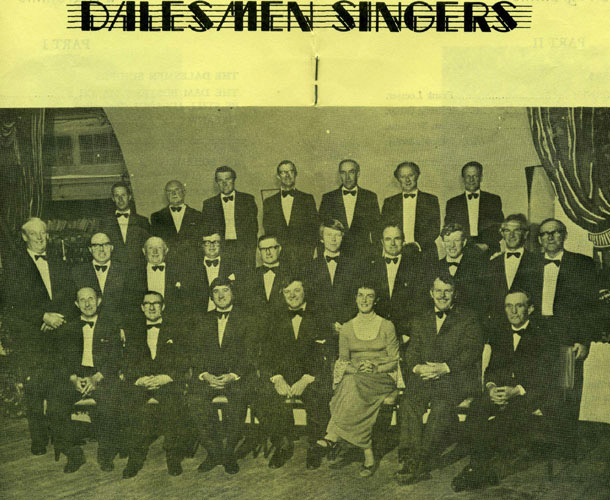 Intrepid cameraman John Watson at work at the Beamish Museum day out and concerts! Scroll down this page to see the pics and then read John's write up. Witty eh!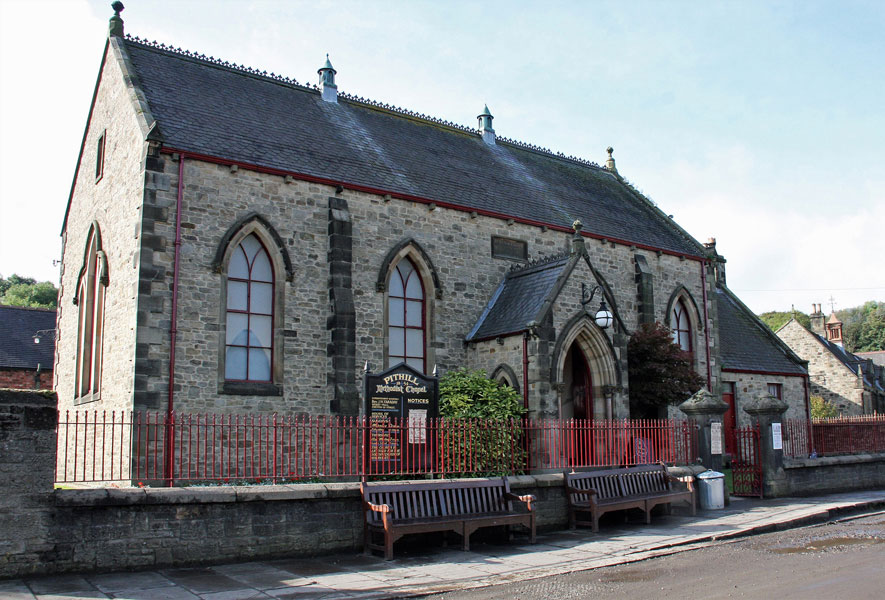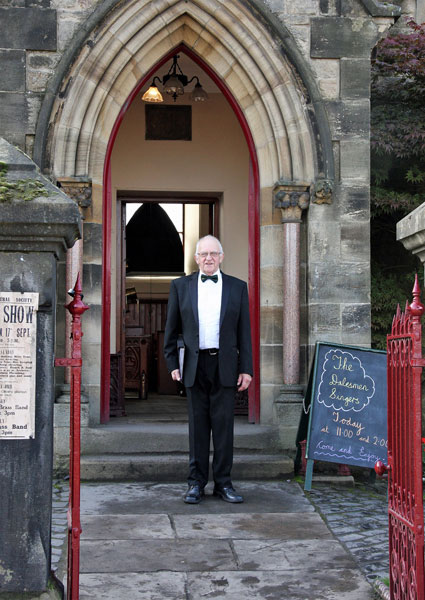 Pit Village Chapel Dave gets ready to take a bow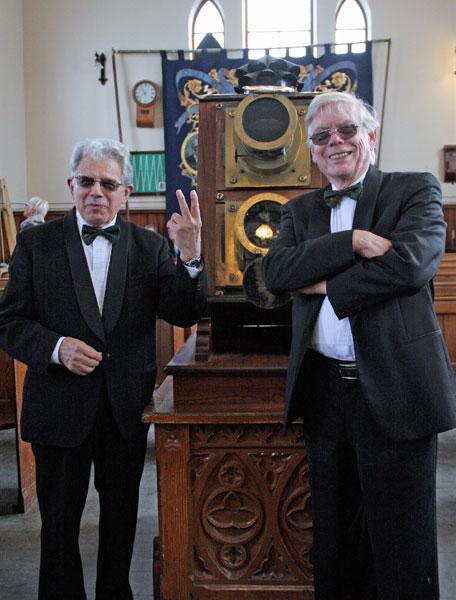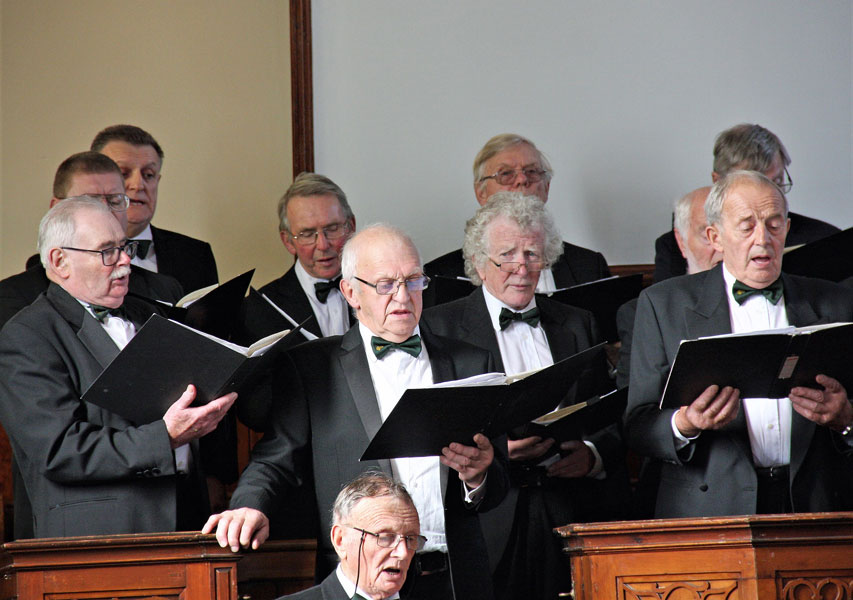 The Krays want fish and chips Is Dave doing his first solo?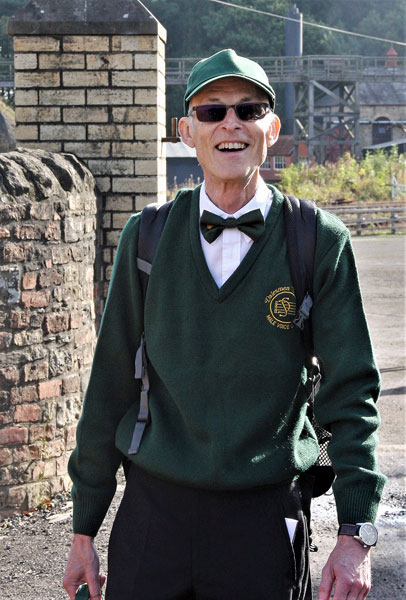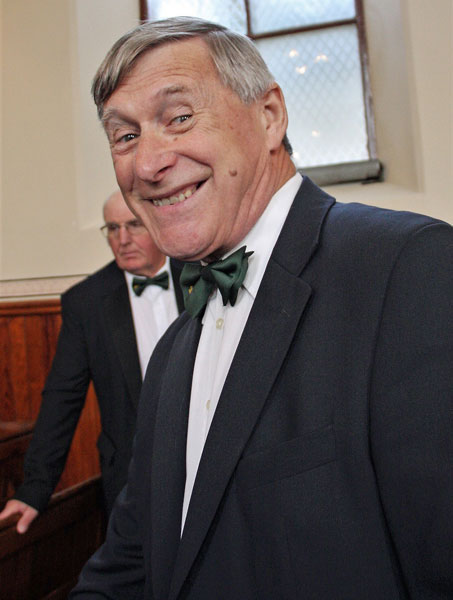 Dont mess with me! Its the way I tell them!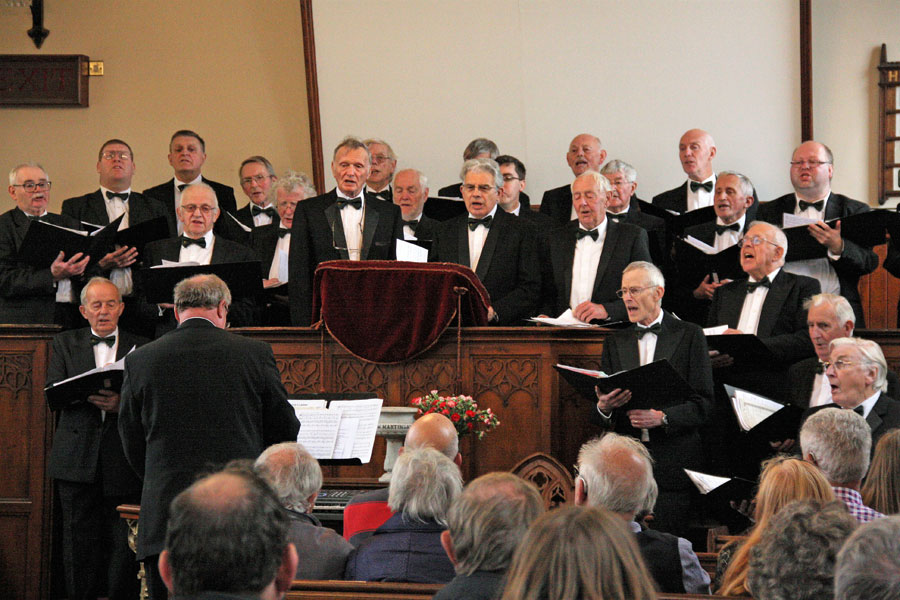 The Choir at full tilt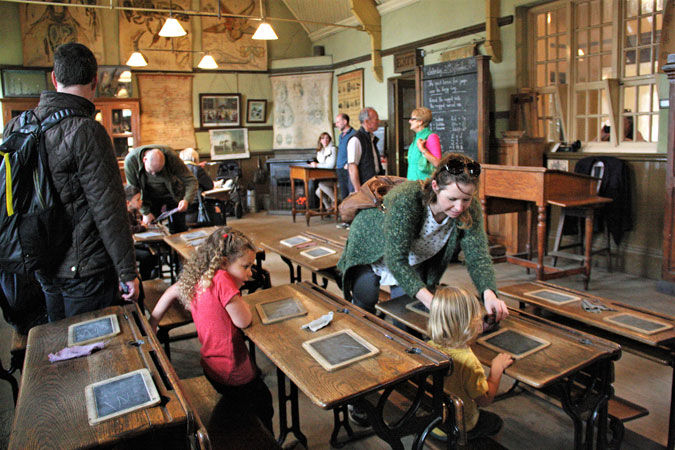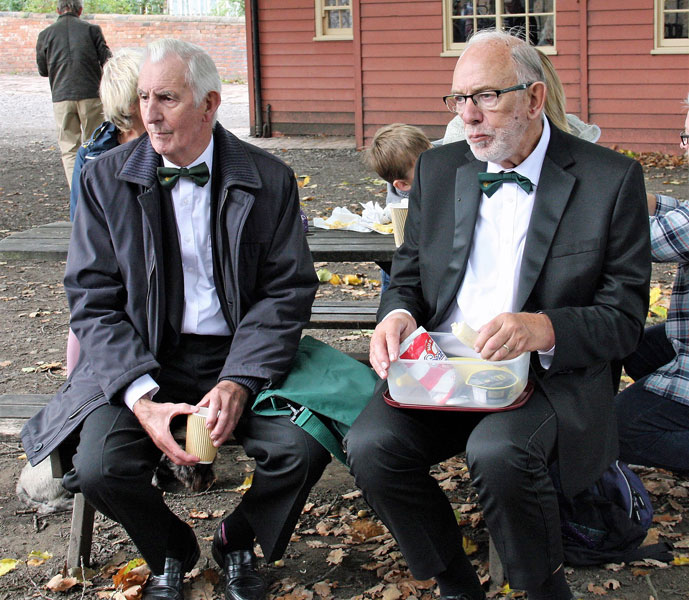 Ah happy days I think that pie was off, Alan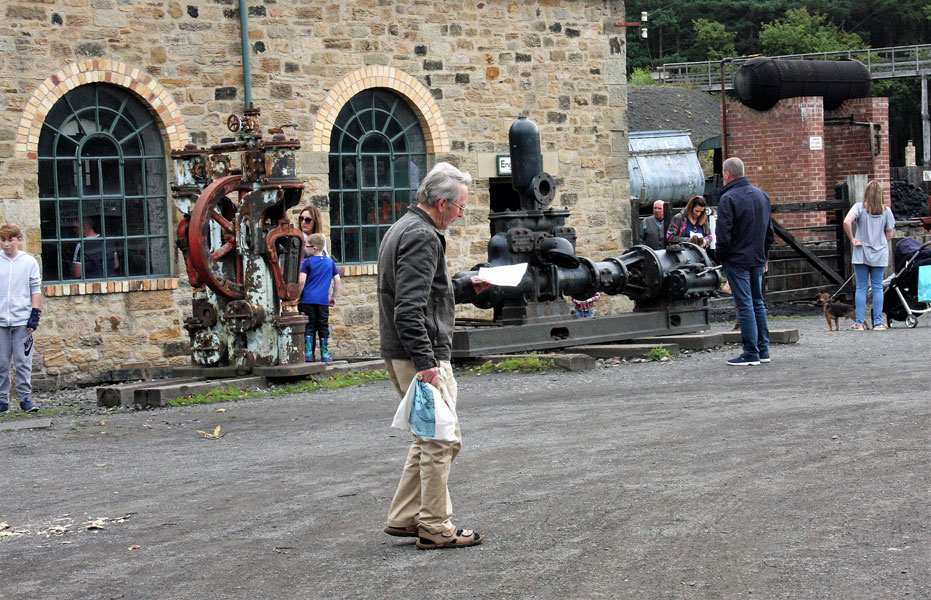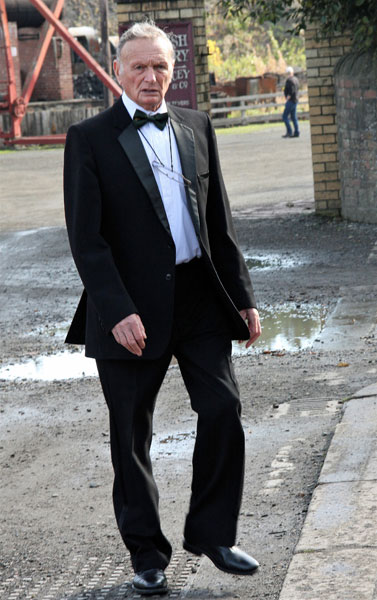 Indiana Jones visits Beamish The name is Bond, James Bond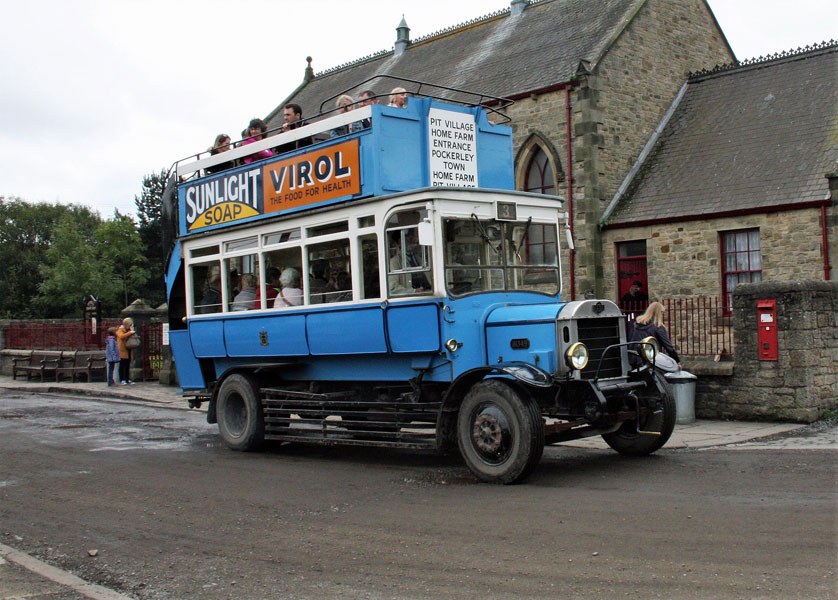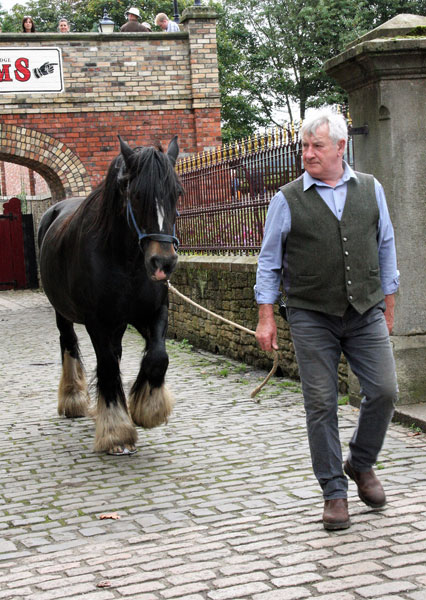 Ride home for Dalesmen who sang well Transport for Dalesmen who didn't sing well
John Watson writes
The choir and (loyal) supporters enjoyed - I hope - a day at Beamish Museum on Saturday, Sep. 23rd when singing at the Pit Village Chapel. Although not gifted with time for a thorough look round, many did find time for a misty eyed return to `the good old days`, a time well before the term `political correctness` was ever coined. Others, stuck in a time warp, didn`t even realize it was a museum. Seriously though, I think the world is still viewed through young eyes from most. 
The Beamish squad did a brilliant job on advertising, posters splashed all around the village and a truly relaxed atmosphere for the singing, with occasional flurries of activity as families arrived with young children, push chairs and back packs (not something the choir are used to. A young audience I mean.) Some popping in to rest awhile, others staying for the full performance. One or two older members remarked, "aye well, nowt fresh that hasn`t been done before," but then, not a lot can be done about pessimism, and, personally, I think the day provided a great opportunity in reaching a fresh and larger audience.
Many thanks to Roger Sutcliffe, Phil Hunton, Neil Shearer and David Jones for helping our Bass man Colin Easterby, who without them would have missed the opportunity to sing here. To Pete Etwell who made it happen, to our loyal supporters and also to the choirs Musical Director, Stephen Maltby who did a fantastic job, both on the keyboard and keeping control of the 25 singers.
Thank you everyone.
John Watson
See Also
DALESMEN at BEAMISH ON YOU TUBE: Click on this link Let the trumpet sound
DALESMEN at BEAMISH ON YOU TUBE: Click on this link Stenka Razin

Coastal Views award night:

John Watson writes:
Coastal View and Moor News is a local area community newspaper headed by Steve and Lynne Nichols from Moorsholme.
In its short life – about seven years I think – it has grown into one of the most informative publications of its kind and is free of charge at many pick up points in the area.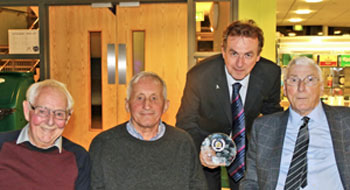 As the Dalesmen Singers use the publication in advertising their forthcoming concerts and other articles, Steve and Lynne kindly sent an invitation to Colin Easterby and Barbara, Jim Stewart and myself to attend their special awards night at Freebrough College, Brotton on Friday, Oct 6th. and all proceeds were in aid of The Junction, a young carers group based in Redcar.
We accepted, enjoying an entertaining and rewarding evening, their hospitality first class and all photos and articles on the night will feature in their next edition out this month, so pick up a copy if you can. 
Many thanks Trinity Printing Group for sponsoring the Dalesmen Singers award, acknowledging the choirs money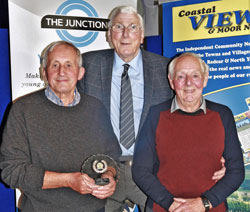 raising efforts over the past year. Colin Easterby accepted the award and, good orator that he is, helped spread the name of the Dalesmen Singers Male Voice Choir to a much wider public, proving good publicity for both Coastal Views and The Dalesmen Singers.
Colin also gave special mention to anyone suffering a disability should not be deterred from attending or joining the choir, as, over the years, he himself has made many new friends through his involvement and enjoyment of singing.
My thanks to Colin, Barbara and Jim Stewart for their excellent company and making the effort to attend the event with me.

Thank you
John Watson