New on the website: click on these links for new items: | ***NEW Music Learning Centre*** | Ladies night photos |

The Dalesmen Ladies Day:
John Watson writes:In the summer months, choir Chairman, David Harforth asked members their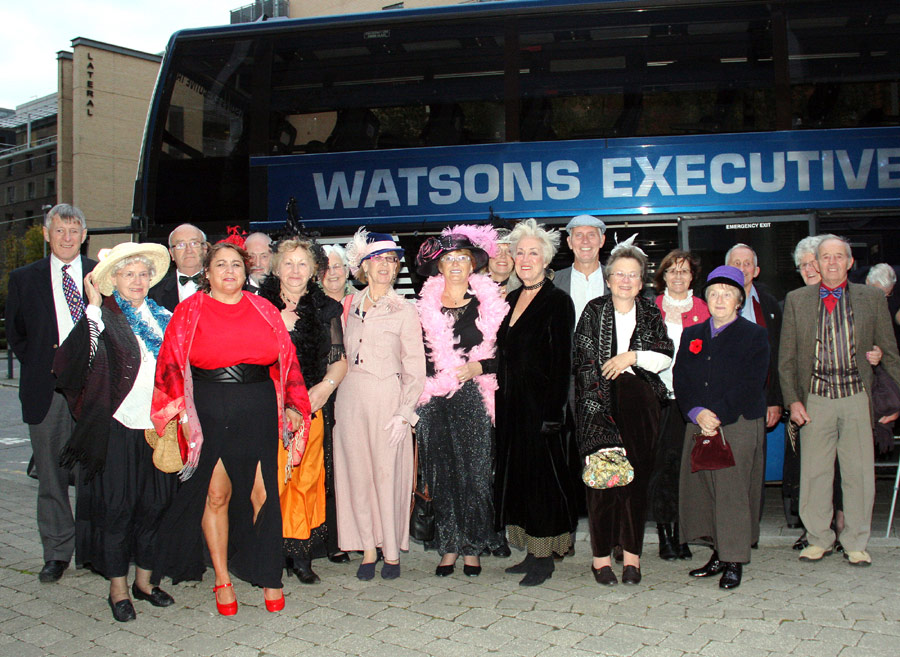 thoughts for a Ladies Night in appreciation of their support through the year, the most popular proving to be a trip to City Varieties Music Hall, in Leeds. So, on Saturday Oct 25th , wives and partners – and some of the men – dressed in  the spirit of the occasion, adding enjoyment and fun. Apart from Ann Watson leaving a trail of pink feathers from her `expensive` boa from bus to Theatre and Geoff Thrall being asked if he was `Bert` the chimney sweep from Mary Poppins, everything ran smoothly. Sorry the photos do not do justice to the stars. Once ensconced inside, the years rolled away as everyone recalled the scenes of the `Good Old Days`era, with a great show of entertainment, crying with laughter at the genuinely funny comedians, and singing along with many well loved songs. The show was followed by a meal at the Bewleys Hotel just a short distance from the Theatre before returning to Danby. Organised by Chairman David Harforth, and wife Nicola – both gold standard with their costumes - and it is down to the hard work of these for such a successful trip Many thanks from everyone David and Nicola for a wonderful day. 

Join the Choir
The Dalesmen Singers are always looking to recruit new singers.
You may or may not have sung in a choir before but either way you will soon pick up some great songs on our current programme. Our regular practices are held on Tuesday nights in Danby Methodist Church from 7.30 to 9.30 pm so please feel free to come along to a warm welcome.

The Dalesmen 2014 Concert Programme
: (Updated 21st Sept 2014)
o
Sat 11th Oct 7.30 with Bridgenorth MVC St Hedda's Egton Bridge
o

Sat 18th Oct 7:30 Gala Concert Danby Village Hall

o

Fri 28th Nov 7.30 St Leonard's Parish Church Loftus


o

Fri 9th Dec 7.00 Skelton Church with Skelton School

o
Sat 19th Dec 7:00 Carols St Hilda's Church West Cliff Whitby