New on the website: click on these links for new items: | Downloads | Singalong player and music | Easy learn Schubert 1st tenors | Easy learn Schubert 2nd tenors | Easy learn Schubert baritones | Easy learn Schubert basses | New tea rota | Singalonga Schubert | All concert performances 2009-14 | 2014 music list |

The Dalesmen Singers Gala Night 2014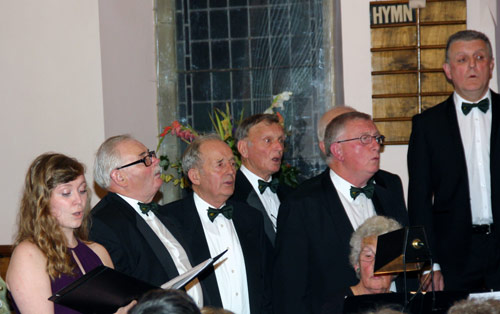 The Dalesmen Singers held a successful Gala night on Oct 18th performing to a full house in Danby Methodist Chapel.
The choir sang many old favourites, including a medley of 1st World War songs that resonated with the lively audience and, although not quite dancing in the aisle`s, they were certainly in good voice and singing along.
Guest performer and star for this special night was the beautiful and talented London based soprano Bethan Williams and her Accompanist John Bradbury.  Bethan gained a degree in Music from The University of York and has performed as a soloist with many choirs across the UK . Her joint pieces with the Dalesmen were `I Believe` and `Serenade` by Franz Schubert.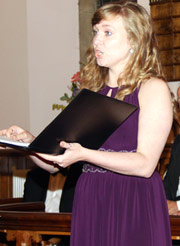 A supper and raffle followed in Danby Village Hall and the night raised the marvellous sum of £1276.
Representative`s  from Cheshire Homes, Marske and the local Heather Hopper were on hand to receive their cheques at the finale

Join the Choir
The Dalesmen Singers are always looking to recruit new singers.
You may or may not have sung in a choir before but either way you will soon pick up some great songs on our current programme. Our regular practices are held on Tuesday nights in Danby Methodist Church from 7.30 to 9.30 pm so please feel free to come along to a warm welcome. Alternatively, if you would like to support the aims of the Choir by being a Patron then click here:
Become a Dalesmen Patron!!

The Dalesmen 2014 Concert Programme: (Updated 21st Sept 2014)

o Sat 11th Oct 7.30 with Bridgenorth MVC St Hedda's Egton Bridge
o Sat 18th Oct 7:30 Gala Concert Danby Village Hall
o Fri 28th Nov 7.30 St Leonard's Parish Church Loftus
o Fri 9th Dec 7.00 Skelton Church with Skelton School
o Sat 19th Dec 7:00 Carols St Hilda's Church West Cliff Whitby