New on the website: clicking on these links will take you to these new items: | 100 club winners Oct | Updated concernt programme to year end | To Music: Deep Harmony Singalong for Harrogate | Gala night concert: Ann Watson writes | Gala Night concert Pics| Singalong for Harrogate | Downloads for Harrogate |

Pegasus School Visit the Dalesmen: Once again the Oxford based Pegasus School on a visit to Whitby were warmly welcomed by the Dalesmen Singers at their practice night in the Methodist Hall Danby. The Castleton based Ladies Singing for Pleasure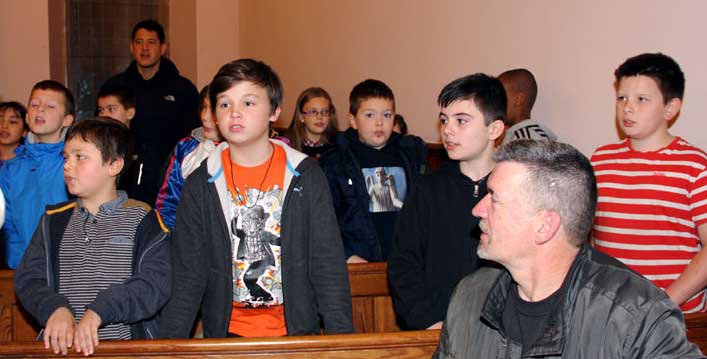 Choir were also present to practice with the Dalesmen for their forth coming joint concert at Loftus. It was a great evening enjoyed by all and particularly so when the children and staff entertained with an African round - complete with pounding drum! Everyone joined in and the Dalesmen then responded with 'When the Saints Go Marching In'. The children listened with great attention and interest to the two choirs being rehearsed in turn by their Musical Directors, Steve Maltby and Barbara Anderson and saw how choirs come together music can be made to soar. For information to other schools and choirs:
Schools welcome and Visiting Choirs welcome All schools who teach, or have an interest in music and singing are welcome to join The Dalesmen at rehearsals. All that would be needed is prior notice, so arrangements could be made to accommodate everyone and organise refreshments.
Come and Join the Dalesmen Singers                                
The Dalesmen Singers are always looking to recruit new singers. You may or may not have sung in a choir before but either way you will soon pick up some great songs on our current programme. Our regular practices are held on Tuesday nights in Danby Methodist Church from 7.30 to 9.30 pm so please feel free to come along to a warm welcome. Alternatively, if you would like to support the aims of the Choir by being a Patron then click here: Become a Dalesmen Patron!!