New on the website: click on these links for new items: | Singalong: Softly as I leave you | Easy learn Schubert 1st tenors | Easy learn Schubert 2nd tenors | Easy learn Schubert baritones | Easy learn Schubert basses | New tea rota | Singalonga Schubert | All concert performances 2009-14 | 2014 music list |

The Dalesmen Singers and Bridgnorth Male Voice Choirs at St Hedda's: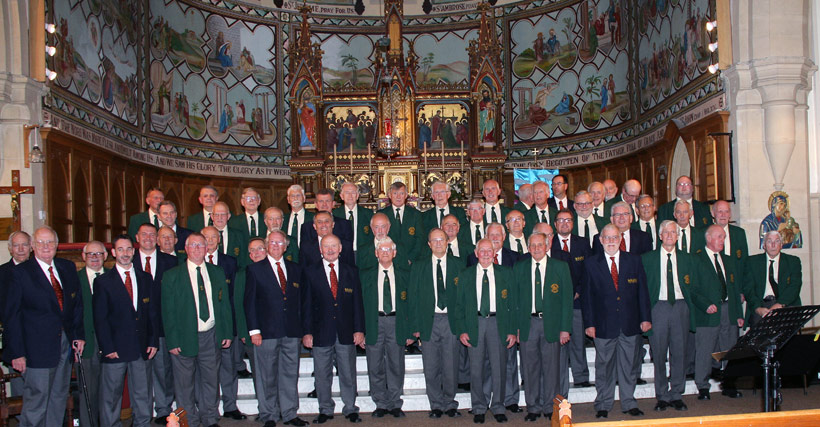 The Dalesmen Singers and Bridgnorth Male Voice Choir`s joint performance proved a great success on Saturday night at St Hedda`s, Egton Bridge. The audience enjoyed a lively night of music and song, with many well loved songs performed by both choirs. Making the long journey from Bridgnorth in Shropshire, on the River Severn, the choir were led by Musical Director Beth Howells. Beth joined Bridgenorth as Accompanist in 2002 and became MD in 2010. At the time Bridgnorth were struggling for members, but with her knowledge of music, drive and commitment, she helped turn the tide and the choir membership has now grown to almost thirty, boasting many talented young performers in their midst. To witness her enthusiasm and drive, it is not hard to understand why, and the choir is now going from strength to strength. Also, adding a thread of locality to the two choirs was their  Accompanist Anne Plant, who originally hails from Middlesbrough. The evening was followed by a superb supper in Egton Village Hall to make a very enjoyable and succesful night, all for the price of a retiring collection
Join the Choir
The Dalesmen Singers are always looking to recruit new singers.
You may or may not have sung in a choir before but either way you will soon pick up some great songs on our current programme. Our regular practices are held on Tuesday nights in Danby Methodist Church from 7.30 to 9.30 pm so please feel free to come along to a warm welcome. Alternatively, if you would like to support the aims of the Choir by being a Patron then click here:
Become a Dalesmen Patron!!
The Dalesmen 2014 Concert Programme: (Updated 21st Feb 2014)

o Sat 5th Apr Redcar Tuned-In Centre
o Sat 3rd May 7.00pm joint concert with Steeton MCC St Hilda's West Cliff Whitby
o Sat 17th May 7.30pm Queen St Methodist Church, Scarborough
o Tues 27th May 7.30 pm Filey Methodist Church
o Sat 14th June - 7.30pm Mike Parkin memorial with'Manhatten Voices'.
St Hedda's Egton Bridge
o Fri 4th July 7.30 St Mary's Goathland
o Mon 14th July 7.45 South Cliff MC
o Sat 20th Sep 7.30 Kirby Moorside Methodist Church
o Sat 27th Sep 7.30 Seamer Methodist Church
o Sat 11th Oct 7.30 with Bridgenorth MVC St Hedda's Egton Bridge
o Sat 18th Oct 7:30 Gala Concert Danby Village Hall
o Fri 28th Nov 7.30 St Leonard's Parish Church Loftus
o Fri 9th Dec 7.00 Skelton Church with Skelton School
o Sat 19th Dec 7:00 Carols St Hilda's Church West Cliff Whitby